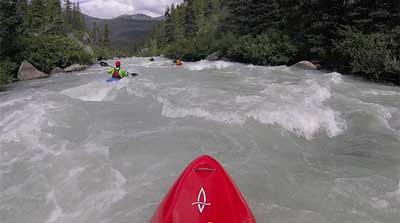 Time: Start approximately 6:30 on river by 7.
End time 9ish ( we often go later into the evening)
Where: We will meet at the bins behind the fish Hatchery (map)
Cost:   
$170 plus Club membership ($20) if we provide gear
$100 plus Club membership ($20) if you have all your own gear
What we will be doing:
The idea behind this program is to provide a support group of paddlers looking to learn and practice whitewater kayaking skills.
 We will be primarily at the Yukon River paddling from below the dam to the intake, practicing various skills and as our skill set progresses we will try and do a couple river trips (Takhini or Wheaton) on the weekends or evenings with an end goal of paddling the Tatshenshini River in August. A typical day will be 2/3 practicing skills and 1/3 free time.
For more information you can email This email address is being protected from spambots. You need JavaScript enabled to view it. or This email address is being protected from spambots. You need JavaScript enabled to view it.
Skills we'll be working on:
Paddling Skills:
how to get out of a kayak when its upside down ( wet exit). How to paddle a kayak using forward, reverse and sweep strokes. Edge control with your boat
Working on basic river safety
Recognizing river hazards, throw bags, swimming techniques for self rescue, and methods to rescue a swimming friend and/or equipment.
River running skills
Eddy turns, ferrying, how to read a river and run a rapid, paddling as a group, how to surf waves, how to communicate on the river, what to bring on the river when doing a day trip.
 Course outline
Day 1 (June 2) Meet day, get boats outfitted and Flat water instruction component - This day is mandatory
Day 2 (June 5) River safety talk, remainder of time on water doing swimming/ self rescue and eddy turns
Day 3 (June 12) review safety talk, swimming and self rescue. up to the dam and work on paddle strokes, ferries, eddie hopping ( s-turns). Free time
Day 4 (June 19) Review t rescue in moving water. up to the dam to work on skills.
Day 5 (June 26) Throw bags, up to the dam to work on skills.
Day 6 (July 3)     Review throw bags, upto the dam to work on skills
Saturday July 7 Takhini River Run (map) - This day is where people see a jump in skill progression - it will be a long day and you will work pretty hard but it will be fun and worth it.
Day 6 (July 10) Introduce the kayak roll, back up to the dam
July 17 to September 4 - Following days to be determined by group dynamics.