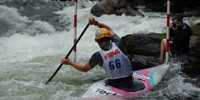 Thanks to Lotteries Yukon the club has received a brand new fleet of Gala Sport Slalom boats.
We took delivery of 4 kayaks and 2 C-1s in a range of sizes that will hopefully cover everyone interested in slalom. The boats were manufactured in Europe and should look great as they are being draped in Yukon's team colours: red, black, and white.  Spray skirts are included.  Lotteries Yukon contributed $7900 while the club contributed $2100 which came from the 2014 RPFF Up North Adventures' Canoe Package Raffle (tickets for this years' raffle will be available soon!).   

Having modern Slalom boats of the latest design and the right size will be great for Yukon youth that are wanting to take up slalom paddling. http://www.galasport.com/

Coaching!
Our goal this summer is to have 2-3 coached sessions per week starting in early May. We have identified some locations to hang gates for training. One being by the islands behind Boston Pizza. There should be enough water there for a set of flatwater gates and the gates should not pose a problem for anyone else. It has good access and will be a great place to work on technique.  We are looking to have some training camp sessions over the summer, dates are still to be determined.
We are hoping to get more kids started this summer on slalom, it is a great way to build one's kayaking skills, as emphasis is on boat control and technique, rather than the size of the rapid. Interested kids should have been part of one of the previous summer's Youth or Teen kayak programs. Adults are also more than welcome.  We have more slalom boats available to use in various sizes,  but they are the older 4 meter boats as the new standard is 3.5m .  Come try them out. Slalom boats are really fast, snap in and out of eddies and are very easy to roll.